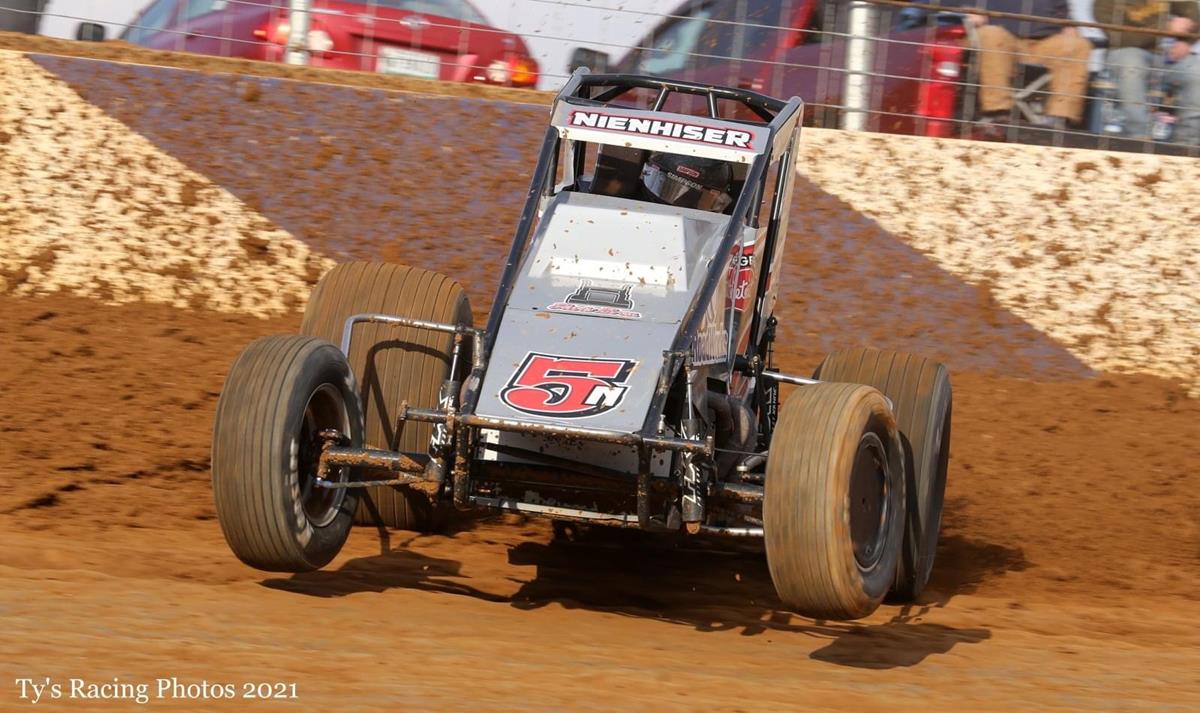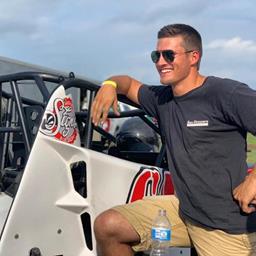 ---
Turbulent Trip to PA for Nienhiser and KO Motorsports
PETERSEN MEDIA: Making the first PA trip of the year with the USAC AMSOIL National Sprint Car Series, Paul Nienhiser and the KO Motorsports team had a turbulent weekend, however the team battled through the adversity and grinded through the trip.
"It was a frustrating trip to say the least, but these KO Motorsports guys never quit and worked extremely hard all weekend," Paul Nienhiser said. "The grit really showed with how we rebounded Saturday and ran on Sunday."
The trip got underway on Thursday night when the series checked into Grandview Speedway. Nienhiser got off to a quick start as he timed the CAM2 Blue Blood Racing Oil/Roadworks/Peterbilt backed No. 5n in fourth fastest in time trials.
A very narrow surface in heat race action saw the Chapin, IL driver finish seventh and be forced into the semi. Able to transfer through the 'B' by way of his third-place finish, Nienhiser would take the green flag from the 11th starting position.
In the 40-lap feature event, Nienhiser would get to mixing it up inside the Top-10, but as the track conditions changed over the course of the race, Nienhiser would fade as he slipped back to a 12th place finish.
Friday night at Big Diamond Speedway, Nienhiser would have a very tough night that got underway with him getting upside down in time trials. The KO Motorsports team would go to work to get Nienhiser's back up car ready for heat race action, and the team would just make the call.
Hoping to just cruise around and transfer as he felt out the new car, things would go array for Nienhiser as a broken wheel center resulted in another flip which would ultimately end his night.
Doing all they could to make repairs to the car on Saturday before checking in at BAPS Motor Speedway, Nienhiser would time in 18th fastest and just make the heat race inversion.
Lining up on the pole of his heat race, Nienhiser would find himself at the helm of a wicked car that was a handful to maneuver. Getting collected in a racing deal, Nienhiser would give up his second position, and tag the back of the pack.
Unable to make the transfer, Nienhiser would again find himself in the "B" where he would finish sixth and narrowly make the transfer into the feature event. With his entry still 'evil', Nienhiser and company would make what adjustments they could to allow him to use the low groove of the speedway in the 'A'.
Able to 'catfish' his way forward, Nienhiser would do a nice job of charging from 15th to finish ninth.
With more one event left on the trip, the KO Motorsports team was able to identify the cause of their Saturday night handling woes, and it proved to be a lingering issue from Friday's rollover.
Able to make repairs, Nienhiser was able to get off to a much better start on Sunday as he timed in 11th fastest before working his way back up to a third-place finish in his heat race, after falling behind early.
Transferring directly into the feature, Nienhiser would take the green flag from the 13th starting position and instantly took a liking to the top of the ¼ mile bullring.
Racing his way forward, Nienhiser would break into the Top-5 at the race's halfway point and was in fourth on a lap 22 restart.
As his luck would have it though, his engine would start to sour when the race went back to green, and it would relegate Nienhiser to a 13th place finish as he did all he could to make it to the finish.
"All in all, it really wasn't the weekend that we set out for," Nienhiser noted. "However, I do think overcoming some of the challenges we faced will pay dividends as the season rolls along. We are all confident we have the speed we need to contend for wins."
Nienhiser would like to thank CAM2 Blue Blood Racing Oil, Roadworks, Peterbilt, Mason Sound, Innovative Design, Bradshaw Custom Pumping, Wessler Bros. Agency, Bob Hawks Auto Body, Fierce Herbicide, Sunstoppers Window Tinting, Engler Machine and Tool, FK Indy, Rider Racing Engines, Kaeding Performance, Smith Titanium Products, Vortex Wings, Signature Signs and Design, and Team Simpson for their continued support.
2021 BY THE NUMBERS: Races-11, Wins-0, Top 5's-1, Top 10's-3
ON TAP: Nienhiser will return to action at Terre Haute on Sunday with the MSCS.
STAY CONNECTED: Stay updated with Paul Nienhiser by following him on Twitter @Paul_Nienhiser or by clicking over to www.paulnienhiser.com.
PETERSEN MEDIA: Petersen Media is a PR firm that can handle your public relations, marketing, and any other promotional needs. Petersen Media utilizes multiple tactics to help you reach your intended audience, to boost awareness.
For more information contact sales@petersenmediainc.com, by phone at 916-342-3424, visit www.petersenmediainc.com, www.facebook.com/PetersenMedia, or follow www.twitter.com/petersen_Media.
---
Submitted By: Paul Nienhiser
Back to News