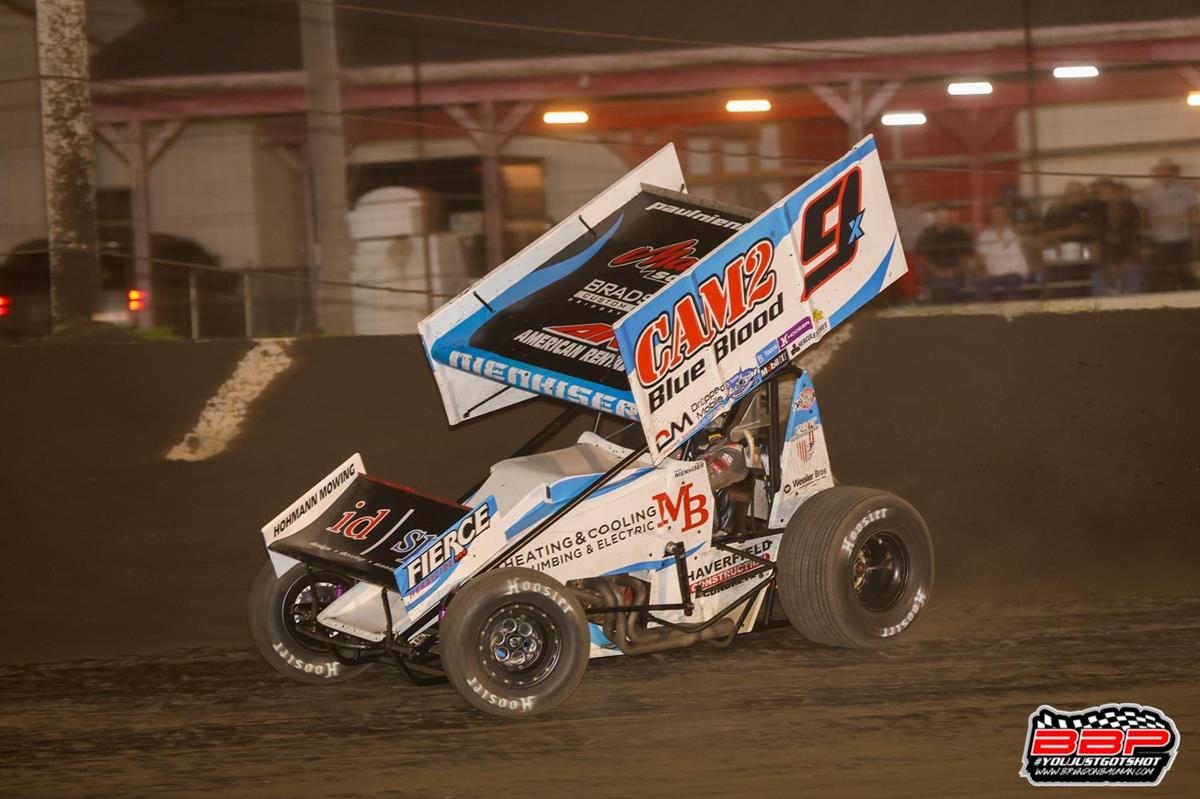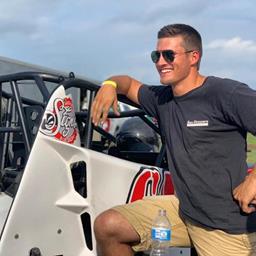 ---
Nienhiser Earns Another Jacksonville Win, Podiums with MOWA at Macon
Paul Nienhiser racked up yet another win at Jacksonville Speedway this past weekend, and closed in on the MOWA Sprints points lead with a podium finish at Macon Speedway.
You could say the Chapin, IL native has been on a roll of late.
"It didn't come easy on Friday." Nienhiser admitted. "Made it up to 2nd in the heat race and a lapped car spun in front of us and I had nowhere to go. The hit broke the right front shock and bent the tie rod. Luckily we were able to restart last and made it up to 3rd. With it being strictly passing points we lined up 5th in the A Main."
The Jacksonville Speedway 410 feature was a much more straightforward affair for the all time winningest MOWA Sprints driver.
"We were able to get to 2nd pretty quick by ripping the top." Nienhiser said. "Threw a slider for the lead on a restart and never looked back. Jacksonville's the home track for us so to get another win there this year feels awesome in front of a bunch of fans and sponsors of ours."
After the victory, there wasn't much time to celebrate as Nienhiser and the #9X team traveled to Macon, IL to run with the MOWA Sprints. Once again, early night issues threw a couple curveballs at the 2022 MOWA Champion.
"We had wing slider issues in hot laps and had to change the cylinder and valve." Nienhiser stated. "I couldn't even turn with the wing sliding back and forth constantly so the track time didn't mean anything."
Luckily, a fortuitous pill draw put the #9X starting outside pole for Nienhiser's heat race.
"Started 2nd in the heat race and won, and redrew the 8th starting spot for the feature." Nienhiser said of the post-hot lap issues portion of the night. "Managed to make some early moves and got to 3rd, when the 2nd place car missed a patch of rubber and spun in front of me. Luckily we missed making contact and we were able to slide for the lead when a lapped car spun right behind us and brought out the yellow."
With the yellow flying before another lap was complete, Nienhiser was forced to give up the lead and restart 2nd.
"Unfortunately after the restart is was rubber all the way around and just locked down." Nienhiser said of the last few laps. "Korey [Weyant] and I never made it back to traffic for me to try a move on him and we had to settle for second."
With the 2nd place finish, Nienhiser finds himself with a solid shot at the Midwest Open Wheel Association points championship heading into the last few races of the 2023 season.
"It's crazy to think that even though we've missed a couple races, we're right in the points battle." Nienhiser admitted. "We'll just try and keep our momentum rolling and hopefully the points will take care of themselves."
Looking ahead, Nienhiser will head back to Jacksonville Speedway on Friday and then to Spoon River Speedway on Saturday for a MOWA Sprints Doubleheader weekend. Nienhiser will be behind the wheel of his CAM2 Racing #9X on Friday and the Midland Performance #50 on Saturday. Both races will have increased purses and added incentives for teams competing. Friday's event will be broadcast live on Dirtvision with tickets for both nights available at both respective tracks on race day.
Paul Nienhiser Racing would like to thank their 2023 Marketing Partners for their support this season!
CAM2 Racing
Buffalo Wild Wings
MB Heating & Cooling Inc.
American Rental Center
Midland Performance
Innovative Design | Sletten Properties
Bradshaw Custom Pumping
Mason Sound
Heartland Trailer Manufacturing
AB&C Moving
Signature Signs & Design
Fierce Herbicide
Haverfield Concrete
Eric Hohmann Mowing
Wessler Bros. Agency Inc.
T&K Tree Services
Dropped Mobile
Engler Machine & Tool
Simpson Race Products
Maxim Chassis
Rider Racing Engines
Smith Titanium
Premier Powder Coating
Box3 Media
FULL RESULTS: 9/8 w/410 Sprints at Jacksonville Speedway
Heat: S/6th, F/3rd
Feature: S/5th, F/1st
9/9 w/MOWA Sprints at Macon Speedway
Heat: S/2nd, F/1st
Feature: S/8th, F/2nd
NEXT UP: 9/15 w/MOWA Sprints at Jacksonville Speedway
SEASON STATS
Features: 32
Top 10's: 24
Top 5's: 19
Feature Wins: 10
Brendon Bauman Photo
---
Article Credit: Loren Kelly-Box3 Media
Submitted By: Loren Kelly
Back to News