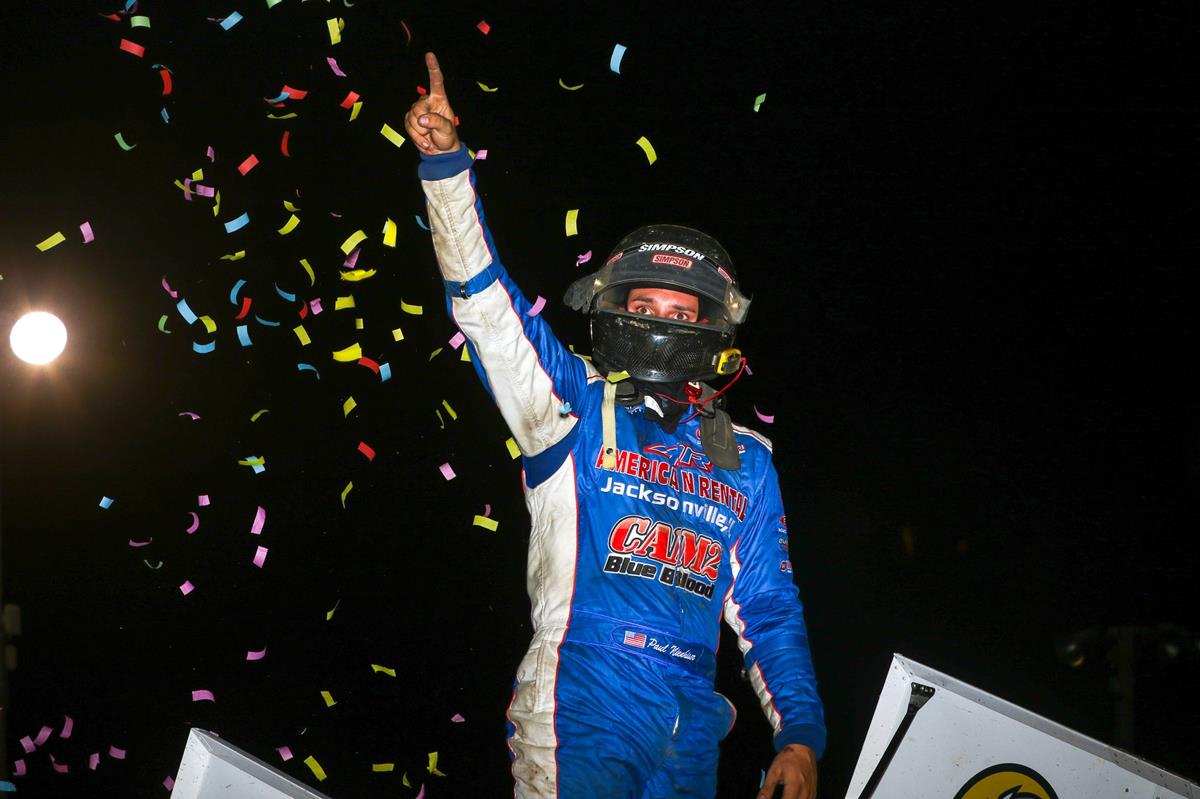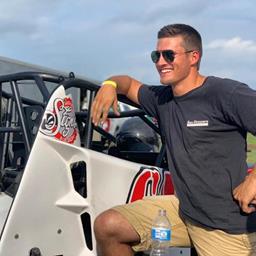 ---
Paul Nienhiser Picks Up Historical MOWA Win at Jacksonville Speedway
PETERSEN MEDIA: Chasing after his share of the all-time MOWA wins lead since 2019, the pandemic and several weather cancelations had continued to deter Paul Nienhiser's efforts. That changed on Friday night when Nienhiser picked up the hometown win and moved into a tie with Jerrod Hull in the MOWA history book.
"My dad and I did a lot of work to get our 410ci ready for Friday night, and I entered the night feeling pretty confident," Nienhiser said. "To finally get this win and tie Jerrod Hull is really special, and to do it at home is the icing on the cake."
With MOWA not using time trials in their format, Nienhiser got the night off to a strong start as he bested the field on the speed chart in warmups aboard the CAM2 Lubricants/Buffalo Wild Wings/Innovative Design backed No. 9x.
Lining up fourth in his heat race, Nienhiser quickly moved into second as he then closed in on the race lead. Pulling up to the leader's rear-end, a narrow racing surface would keep Nienhiser from making a move to net the win, however his second-place finish would put him in the nightly redraw.
Pulling the 'five', the Chapin, IL driver took the green flag from the third row on a surface that had dried out and widened out from heat race competition.
Paying homage to a local family, Friday's event was dubbed 'The Standridge' and offered some extra money up for grabs. When the race came to life, Nienhiser mirrored his heat race start as he quickly worked into the second position.
Chasing after the race lead, Nienhiser would be in prime position to take over the stop spot as the leader had trouble on the cushion and got into the wall.
Once out front, Nienhiser was able to set sail on the field and race to his third overall win of the season and this one moved him into the all-time MOWA Wins lead as he now sits tied with Jerrod Hull.
Also, in action in the 305ci class on Friday night, Nienhiser would pick up a win in his heat race, and subsequently found himself on the pole of the feature event. With issues at the end of his heat, his team was forced to change a magneto at the track and just got him out for the feature event.
Battling hard for the race lead, Nienhiser with dance with disaster as he caught a rut and did everything but flip. Allowing the leader to get away, Nienhiser was able to get his mount settled down as he maintained second and race on to a runner up finish.
Saturday night the scene shifted to Macon Speedway in Illinois for another round of MOWA action as Nienhiser looked to take sole possession of the series' all-time wins list.
Lining up sixth in his heat race, Nienhiser carved his way forward as he would finish second and earn high point honors for the night. Pulling the six, Nienhiser had his work cut out for himself as the track was extremely worn out and on the verge of taking rubber as he rolled out for the feature event.
Needing to make his moves early, Nienhiser powered his way into third when the race came to life. As he moved into third, he made a move into second in the closing stages of the race only to see his pass be negated by a subsequent yellow flag.
As rubber continued to go down the track, Nienhiser would make another move for the position with five to go as he got out of the rubber, but he would lose the handle and go into a spin cycle.
Able to keep his car under power, Nienhiser would settle into the ninth spot where he went on to finish.
"I really want to say how grateful I am for everyone that helps each week," Nienhiser said. "Ralph, Drake, Caleb, Greg, Eldon, Tom, Roger, Craig, and CJ make this all possible and I am truly thankful. These guys have so much sweat invested in our program, and none of the past nine years would have been possible without all of them. I also want to thank my Dad for everything he has done for me over my career. His efforts to tear into the car and get things right made Friday possible. I also want to thank Caleb for his efforts with the 305, Tim Engler for his continued support, and the Littletons for loaning us a Mag to run the 305ci feature. I have been fortunate to have some great sponsors over the years and they have allowed us to top notch equipment and compete at a high-level to get these 22 MOWA wins. I can't wait to get No. 23."
Nienhiser would like to thank CAM2 Lubricants, Buffalo Wild Wings, Innovative Design, Mason Sound, Bradshaw Custom Pumping, Signature Signs & Design, Sunstoppers Window Tinting, American Rental Center, Fierce Herbicide, Guse's Pub & Eatery, Wessler Bros Agency, Willhite Mowing, T&K Tree Services, Engler Machine and Tool, FK Indy, Rider Racing Engines, Midland Performance, Simpson Race Products, Smith Titanium, and Premier Powder Coating for their continued support.
Nienhiser would also like to thank Midland Performance, Kinney Racing Engines, Rockstar Wraps, Heartland Trailer Manufacturing, Robert's Tire Center, and Stronghurst Collision for their support of the No. 50 car.
BY THE NUMBERS: Races-19, Wins-3, Top 5's-12, Top 10's-16
ON TAP: Nienhiser will be at Jacksonville Speedway on Sunday night.
STAY CONNECTED: Stay updated with Paul Nienhiser by following him on Twitter @Paul_Nienhiser or by clicking over to www.paulnienhiser.com.
PETERSEN MEDIA: Petersen Media is a PR firm that can handle your public relations, marketing, and any other promotional needs. Petersen Media utilizes multiple tactics to help you reach your intended audience, to boost awareness.
For more information contact sales@petersenmediainc.com, by phone at 916-342-3424, visit www.petersenmediainc.com, www.facebook.com/PetersenMedia, or follow www.twitter.com/petersen_Media.
---
Submitted By: Paul Nienhiser
Back to News