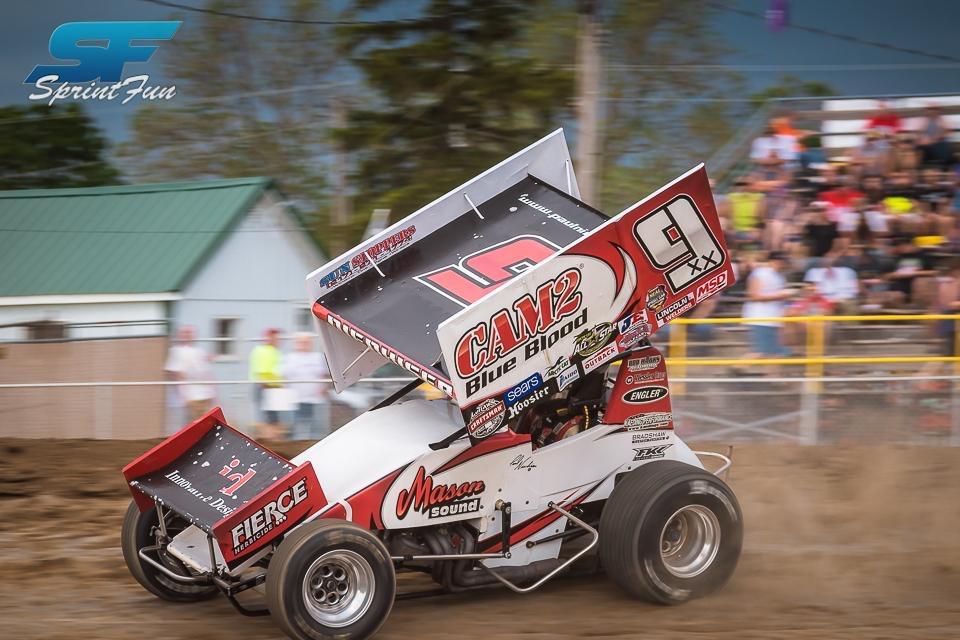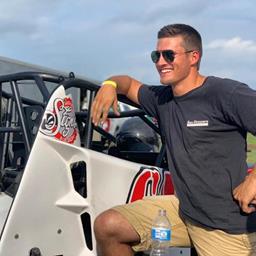 ---
Tough Weekend on the Road for Paul Nienhiser
(Dan McFarland photo)
Paul Nienhiser traveled to race back to back nights with the World of Outlaws Craftsman Sprint Car Series this past weekend following a string of impressive runs with the Arctic Cat All Star Circuit of Champions.
Friday night's event took place on the 1/2 mile oval in West Liberty, IA. "I was excited to race on another half-mile, which historically I haven't been the best at. Lately I've made some gains on the car and as a driver on those kinds of tracks and we've had good speed." Paul qualified the 9x machine in the 20th position. Then on a track that didn't see much passing early, would start and finish his heat race in 7th, one spot short of qualifying for the main event.
"I didn't quite get the job done qualifying and track position was everything early, well all night really." He would start the Last Chance Showdown from outside the front row next to Terry McCarl. Having a great three-way battle for the lead, Paul would use the outer-most part of the racing surface to rocket into the lead and go on to win, earning his way into the main event.
"I got some really good laps in during the LCS, and it was another chance to tune on the car. We were pretty close, and I knew if the track held up we would be moving forward in the main." Starting the main event from the 19th position, Paul did as expected, being one of the only big-movers throughout the field. However, the track began to take rubber around the bottom and became a follow-the-leader race to the finish. "We passed 6 or 7 cars in the early going, and then the track took rubber. It was one of those deals where I tried to make something happen and move out of line and it didn't go our way. I decided just to pull in and save our equipment." Paul was officially scored in the 20th position.
Saturday night the World of Outlaws returned to Beaver Dam Raceway in Beaver Dam, WI. Going up against a stout 41 car field, Paul qualified 12th in his group. "With all the rain I was so tight we couldn't get the car free enough, so I was disappointed with our qualifying again which is something we are usually pretty good at."
He would need to advance a position in his heat race to earn a bid straight to the main event. Using a great move on the initial start of his heat, Paul would slide into 5th from the 6th starting position to do just that.
Lining up from the 20th position for the main event, track position again proved to be key. Navigating a treacherous track after multiple rain delays, Paul made up a few positions with multiple cars wrecking and getting upside down, but ultimately made the decision to retire early from the event rather than tear up equipment, officially being scored in 18th. "You hate to have weekends like this, we had a lot of speed but it was hard to tell. Both nights were polar opposite racetracks but there wasn't much you could do without starting up front. I'm still pleased we qualified for both shows with the outlaws over the weekend, that's not an easy task."
The team has decided to take this upcoming weeks races scheduled off to regroup and get equipment ready for the remainder of the season. Next up will be July 7-8 with the World of Outlaws in Cedar Lake, WI.
For any sponsorship or marketing inquiries, please contact Paul at paul@nienhiser.com or John at john.a@nienhiser.com
Paul would like to thank the following partners and friends for their continued support: CAM2 Blue Blood Racing Oil, Mason Sound, Innovative Design, Fierce Herbicide, Wessler Bros. Agency, Bradshaw Custom Pumping, Littleton Storm & Timber, Engler Machine & Tool, Factory Kahne Indy, Bob Hawks Autobody, Rider Racing Engines, Kaeding Performance, Steve Thomas Racing, Butlerbuilt seats, John and Bev Nienhiser, Ralph and Drake Willhite, Roger Staake, Greg Ford, and Craig Grimsley!
---
Submitted By: Paul Nienhiser
Back to News