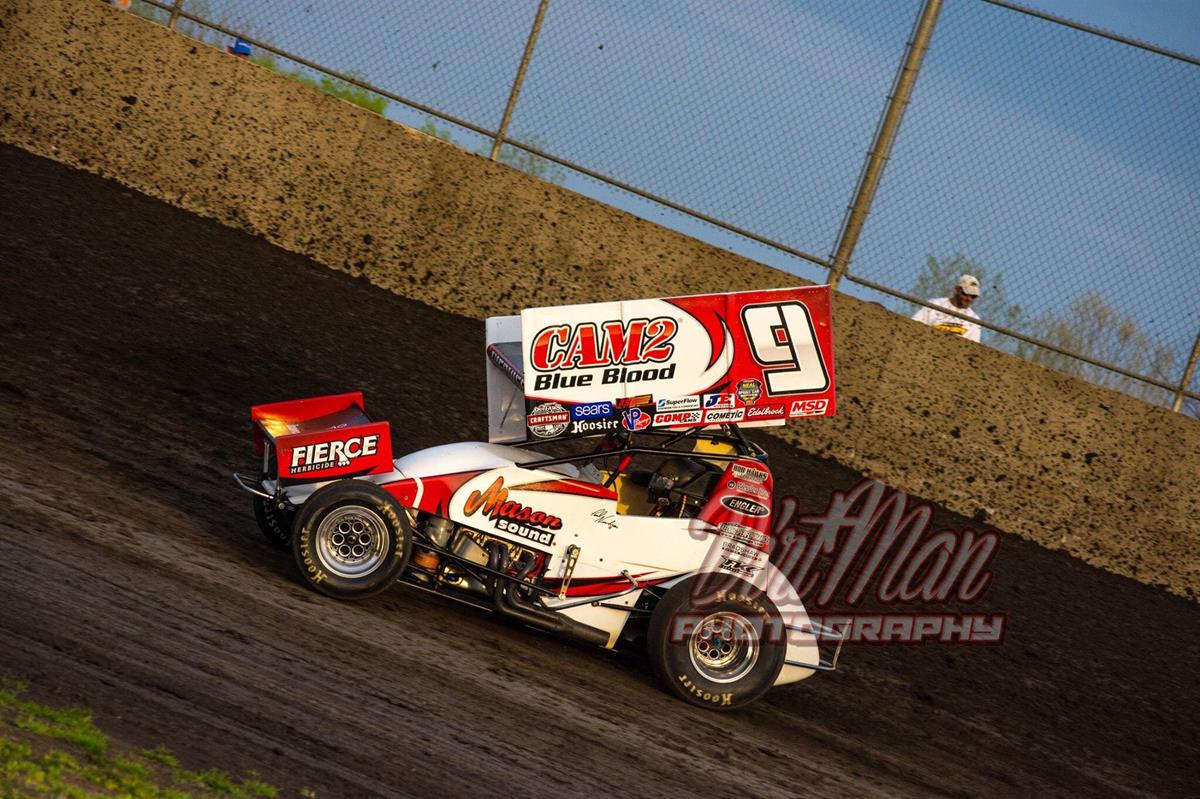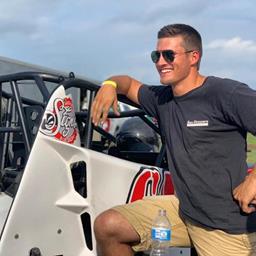 ---
Top 5 with MOWA Sprints for Paul Nienhiser
(DirtMan Photography picture)
Paul Nienhiser made it two top-five finishes in as many races with the Midwest Open Wheel Association (MOWA) in 2017. Following his first career IRA series win a week earlier, the team made the trip to Tri-City Speedway in Granite City, IL.
Paul picked up where he left off at 34 Raceway, setting the fastest qualifying time and setting a new track record at the 3/8 mile oval at 12.409 seconds. Following the heat race invert, Paul carefully worked through the field from a sixth starting spot to finish second. After a less than ideal dice roll, inverting the feature field eight positions, Paul took the green flag from outside of row four, rather than from the pole. "We were fast enough to win the heat, I just didn't get through there as quick as I needed to have a shot at the win."
Track conditions were very dry-slick, and the team suspected the track to take rubber in the feature. Electing to race on old tires in order not to ruin new ones, Paul made his way from eighth to fifth in the course of the 25-lap A main. "It was tough, the Late Models ran before us and there just wasn't much track left. I struggled to find the rubber but when I did it was just follow the leader from there. Still a good run for us and it's rolling in the trailer. Thats the important part."
Next up for the 9 team will be the World of Outlaws race at I-55 Raceway in Pevely, MO on Saturday, April 22nd.
For any sponsorship or marketing inquiries, please contact Paul at paul@nienhiser.com or John at john.a@nienhiser.com
Paul would like to thank the following partners and friends for their continued support: Cam2 Blue Blood Racing Oil, Mason Sound, Innovative Design, Fierce Herbicide, Wessler Bros. Agency, Bradshaw Custom Pumping, Littleton Storm & Timber, Engler Machine & Tool, Factory Kahne Indy, Bob Hawks Autobody, Rider Racing Engines, Kaeding Performance, Steve Thomas Racing, Butlerbuilt seats, John and Bev Nienhiser, Ralph and Drake Willhite, Roger Staake, Greg Ford, and Craig Grimsley!
---
Submitted By: Paul Nienhiser
Back to News