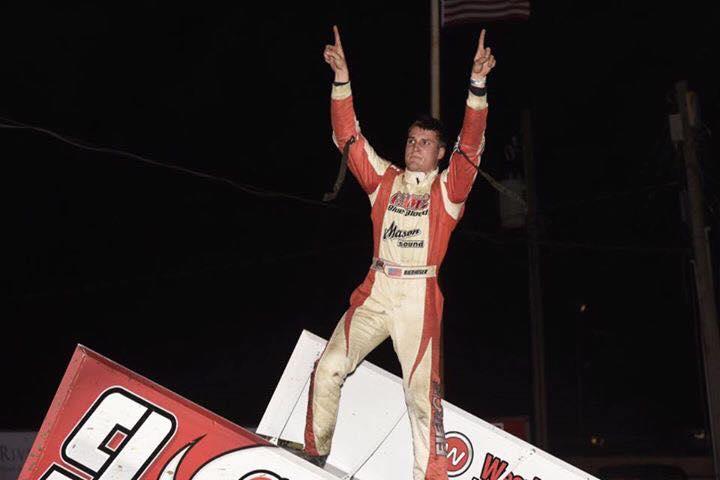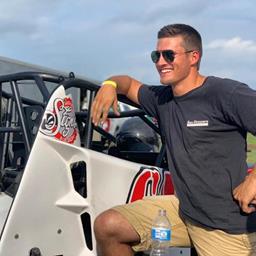 ---
Paul Nienhiser Earns First Victory of 2017!
Paul Nienhiser won his first race of the 2017 season this past Saturday night at 34 Raceway in Burlington, IA. The team got their Midwest season underway also at Jacksonville Speedway in Jacksonville, IL on Friday.
Not only did the team make their debut in the Midwest for 2017, but Friday night was also opening night the Midwest Open Wheel Association (MOWA). Paul got off to a quick start, qualifying 3rd quickest. "I definitely didn't make my best lap ever qualifying, but it was good enough for 3rd which set us up pretty well the rest of the night."
The new MOWA format inverted 6 cars in the heats which put Paul outside row 3. He used the outside starting position to his advantage, making quick work with the high line to get into 2nd place where he would go on to finish.
Paul would take the green flag in the A main from the 3rd position. "It was a fun track. Hats off to Tom Casson and the Jacksonville track crew for even getting the show in," said Paul. Paul peeked to the inside of the leaders a couple of times in traffic, but was unable to complete a pass and settled for a 3rd place finish in the first race of the year for MOWA. "I really wanted to win that one. I led the last two MOWA shows there and just handed the wins away, so we were kind of looking for redemption."
Saturday nights event was the opener for the Interstate Racing Association (IRA) at 34 Raceway. Paul and the team picked up right where they left off on Friday, going quickest in his hotlap group. "It was pretty wet and greasy, but I was feeling good and the car seemed to handle better than the other guys on the track." He qualified 11th quickest. "I was disappointed with how I qualified. I knew it wasn't going to be fastest and I was just too tight to run it any harder." Qualifying, however, put Paul on the pole of the 2nd heat after the 12 car invert.
Paul drag raced with Friday night's MOWA winner Brad Loyet into turn 1 on the start of his heat race, using a well-timed slide job to move into the lead by the exit of turn 2. "It was important to get to the lead there on the first lap. We needed to win the heat to make the 10 car redraw for the A-main since I didn't get the job done qualifying." Paul would go on to win.
Paul drew the 2nd starting position for the A-main. He steal the lead away from Lynton Jeffrey in turns 3 and 4 on lap 3. Before a lap 17 caution, Paul had built up nearly a half-lap lead on the entire field. "I knew we had to be good, but I was still frustrated to see that yellow come out because I was really hitting my marks well." On the ensuing restart Paul raced away with the lead and made easy work of lapped traffic. The caution would fly again on lap 27 of the 30 lap event, but Paul never looked back earning his first career IRA win and 2nd career win at 34 Raceway.
"It was great to get back to victory lane after going winless last year and being so close so many times. This is a tough group of guys who travel with the IRA. The car was almost perfect. I felt like we just had the car to beat all night even though I didn't qualify great. I can't say enough about all the hard work my dad, Roger, and Ralph put in every single week. Lanny Auringer from Innovative Design and Corey Sharffenberg drove down from South Dakota this weekend and Greg Ford and Drake Willhite made the trip too and we couldn't do it without all the help. I can't say enough how thankful I am to be in this position."
Next up for the 9 team will be the MOWA race at Tri-City Speedway in Granite City, IL on Friday, April 14th.
For any sponsorship or marketing inquiries, please contact Paul at paul@nienhiser.com or John at john.a@nienhiser.com
Paul would like to thank the following partners and friends for their continued support: Cam2 Blue Blood Racing Oil, Mason Sound, Innovative Design, Fierce Herbicide, Wessler Bros. Agency, Bradshaw Custom Pumping, Littleton Storm & Timber, Engler Machine & Tool, Factory Kahne Indy, Bob Hawks Autobody, Rider Racing Engines, Kaeding Performance, Steve Thomas Racing, Butlerbuilt seats, John and Bev Nienhiser, Ralph and Drake Willhite, Roger Staake, Greg Ford, and Craig Grimsley!
---
Submitted By: Paul Nienhiser
Article Media
Back to News